About Us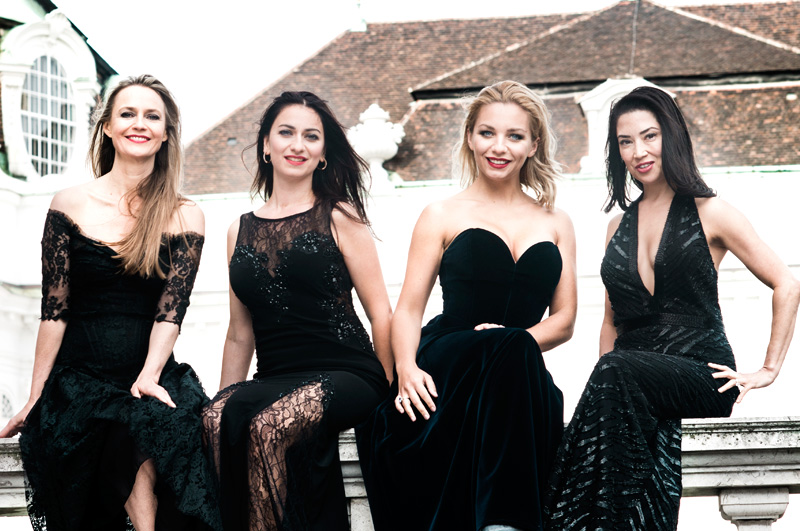 Four mesmerising women from four corners of the world, all highly acclaimed classical soloists with a shared desire to create beautiful music, taking you on a journey into the unexpected.
Lidia Baich on Violin, Tanja Zapolski on Piano, Lone Madsen on Clarinet and Kristina Reiko Cooper on Cello — together they're a musical force with virtuosic performances that touch the heart and soul. Produced by Steven Epstein, their first album promises to enchant audiences across the globe.
Special thanks to Sarah Ioannides (conductor) and Steven Epstein, Grammy Award winning producer on our upcoming album. Thanks to Alan Djanogly and Julius Maxwell To'o for their generosity in building this website. OPUS X is produced by Lone Madsen.
Lidia Baich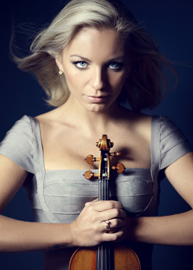 Lidia Baich is regarded as one of the most versatile violin soloists of the young classical generation. The Austrian who was born in St. Petersburg received her first violin lesson from her grand-father. She then went on to study with Prof. Boris Kuschnir in Vienna. When she was eight she won her first international competition, this was followed by many more first prizes. At the age of sixteen, her outstanding musical performance earned her first place in the Grand Prix d'Eurovision and the title "European Musician of the year".
Lidia Baich plays recitals as well as as a soloist with orchestra, performing in the world's leading concert halls. Concert-tours have taken her to Japan, China, Russia, USA, Korea, South Africa, Argentina, Brazil and Great Britain, where she played with the world's top orchestras under conductors such as Lorin Maazel, Vladimir Fedoseyev, Yuri Temirkanov, Jukka-Pekka Saraste, Kristjan Järvi, Bertrand de Billy and Yakov Kreizberg, and orchestras such as the New York Philharmonic, St. Petersburg Philharmonic, Tokyo Philharmonic, Malaysia Philharmonic, Berlin Symphony Orchestra, Bavarian Radio Orchestra, the Vienna Symphony Orchestra, Orchestre Nationale de France, Orchestra Arturo Toscanini or Camerata Salzburg.
As a passionate chamber musician Lidia plays with partners like Nobuko Imai, Aleksey Igudesman, Hyung-Ki Joo, Matthias Fletzberger, members of the Vienna Philharmonic or the Vienna Brahms Trio. Lidia has performed at festivals including the Vienna Festival, Salzburg Festival, Dubrovnik Festival, Moritzburg Festival and Mozart Festival in Johannesburg.
Lidia also performs with opera singers, most recently with Elina Garanca, Erwin Schrott, Andreas Schager and Andrea Bocelli. In 2014 she was invited to work with State Ballet Berlin for the production "Don Juan". Lidia released two CD's with Deutsche Grammophon/Universal; Violin-Concertos by Mendelssohn and Prokofiev with Bertrand de Billy and the RSO-Orchestra Vienna, and the CD / DVD "Violin in Motion".
Lidia Baich also serves as a jury member at prestigious violin competitions such as the Eurovision- or the Menuhin-Competition. Since 2014 she is also teaching at the Konservatorium Wien University. Recently she recorded her third CD with Violin-Sonatas by Richard Strauss and Joseph Marx. Lidia plays a violin made by Joseph Guarnerius del Gesú "ex Guilet" in 1732, made available to her by courtesy of the Austrian National Bank.
Lidia is inspired bybeing outside in the nature, going to the opera, gardening, knitting, hiking. I get my energy and inspiration by listening to the wind in the forest, being at the opera or climbing on a mountain.
Tanja Zapolski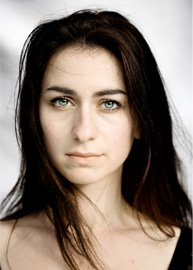 Russian born Tanja Zapolski is a modern classical pianist and one of the top young musicians living in Denmark. She has astounded audiences at home and abroad with solo recitals, piano concertos, chamber music playing with some of the world´s best musicians, and in new forms of cross-genre expression. Her playing has been described by the Danish press as "awe-inspiring, at all times light and brilliant" and with "an explosive technique…full of intense energy and vibrant colour".
Tanja has performed with The Danish National Radio Orchestra, Copenhagen Philharmonic, The Danish National Chamber Orchestra, as well as Oslo, Helsingborg, Odense and Århus Symphony Orchestras. In February 2013, she is booked to perform Hans Abrahamsen's Concerto for Piano and Violin with the Royal Danish Orchestra under the baton of world-famous conductor Simon Rattle. Tanja has established herself as a renewer of classical traditions and a challenger of genre boundaries. Her piano/saxophone/Percussion trio Zoom has played at Roskilde Festival and Copenhagen Jazz festival in Denmark and in Poland and Russia.
October 2012 saw the release of the CD "If Power Asks Why", showcasing Tanja with multi-artist Martin Hall and the renowned Mezzo-Soprano Andrea Pellegrini in a melting pot of classical and popular music. The recording has received fantastic critique, including five stars in the Danish music magazine Gaffa. She has been awarded several first prizes in Danish and International competitions, amongst others Nordic Talent in Oslo and The International Competition for Young Performers. Furthermore she has received a Jacob Gade Scholarship, The Sonning Scholarship, The Danish Freemason Prize, the Victor Borge Prize 2004 and the Gladsaxe Music Prize 2008. Tanja is a Reiki Master healer and in her spare time loves to dance Flamenco. Tantra is also an integrated part of her life.
Lone Madsen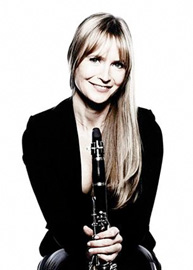 Lone Madsen (pronounced Luna) was born in Denmark and educated in England. The classical clarinetist and composer has performed internationally as a soloist and chamber musician in prestigious venues all over the world, from New York's Lincoln Centre, to The Royal Albert Hall in London. She has collaborated with some of the world's greatest musical talents from Alfred Brendel, Thomas Ades to Andrea Bocelli and performed in Festivals ranging from Pavarotti and Friends in Modena, Italy to opening the Johannesburg International Mozart Festival in South Africa, to the Al Bustan Festival in Lebanon.
As a recording artist she has produced and released several top selling albums. Grammy Award Winning producer Steven Epstein describes Lone's playing as having " a wonderful sense of style and a rich and expressive sound ". An extremely versatile artist, she has commissioned works for clarinet from composers like Nora Kroll Rosenberg, Michael Kamen and Nico Muhly and appeared as a soloist with The English National Opera and Punchdrunk theatre while also contributing to various film scores including for director Mike Figgis. She has drawn together some inspiring collaborations including Grammy Award Winning artists such as Chanticleer Singer Terry Barber and Richard King on Lone's 'Romantic Trios' album. Her highly acclaimed solo album "White Sands" released in 2012 has been described as "Breathtaking". A big part of 2012 saw Lone pour her energy into her new ensemble Opus X including the documentary film "The Making of OPUS X". Their debut album is due to be released in December 2015.
She graduated with a Master's Degree from the Juilliard School, New York, where she studied with world-renowned clarinetist Charles Neidich. Her highly successful musical career has been complimented by her presence as a theatre and screen actress. Credits include Miss Gray in Ang Lee's Oscar-winning film "Sense and Sensibility". To relax she likes to dance, keep fit and most importantly, inspire kids through teaching them music.
Kristina Reiko Cooper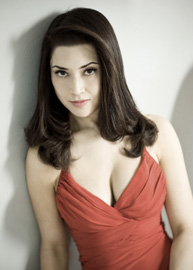 Kristina Reiko Cooper has been hailed by the New York Times as "sensational in concert", and as a "stunning virtuoso" by the Los Angeles Times and has performed as a soloist, recitalist and chamber musician throughout the Americas, Europe and Asia. Kristina's concerto appearances include the Prague Chamber Orchestra, the Osaka Symphony, the Jerusalem Academy Chamber Orchestra, the San Salvador Symphony and the Toronto Symphony. Other recent noted solo appearances include a tour with the Shanghai Symphony culminating in a performance at the World Expo, an NHK televised solo recital and appearing as the soloist for Tan Dun's Water Passion in LA's Disney Hall. An enthusiast of contemporary music, Kristina has premiered many works, including the US premiere of Tigran Mansurian's Cello Concerto #2, the European premiere of Mario Davidovsky's Cello Concerto, the world premiere of Roberto Sierra's Sonata for Cello and Piano, the world premiere of Phillip Glass's The Sound of a Voice. Kristina recently made her solo Carnegie Hall Debut with the Tel Aviv Academy Orchestra.
As first-prize winner of the 1998 Walter M. Naumburg Chamber Music Award, Kristina is also a much sought after chamber musician. She has taken part in such groups and festivals as Musicians from Marlboro, Chamber Music Society of Lincoln Center, The Aspen Music Festival, La Jolla Summerfest, Mostly Mozart Festival (Lincoln Center) Spoleto Festival USA, Angel Fire Music Festival, Ravinia and Chamber Music Northwest. She has a discography of CD recordings for Arabesque, CP2, TNC, Helicon Records, Spin Art Records and a solo recital DVD for Amadeus Press. Kristina has been featured on CNN, CBC Television, CBS's and 60 Minutes and studied with Joel Krosnick at the Juilliard School where she earned her BM, MM and DMA. Kristina plays a 1786 William Forster cello. She has released over 20 CD's for companies such as Pony Canyon, Arabesque Records, and Linus Records and 7 DVD's for Fuji Television and Amadeus Press. Her newest project is titled "Besame Mucho: Love Songs from Around the World" due for release in September 2015.
A woman of many interests, in Asia, Kristina has filmed television commercials, modeled and had her own magazine column. She received her Bachelor's, Master's and Doctoral Degrees from the Juilliard School of Music, and is currently a visiting Professor at Tel Aviv University in Israel. She is a marathon runner, adores wine tasting and as a closet nerd, the New York Times crossword puzzle and Star Trek.